No job too BIG. No job too SMALL. Sometimes choice is a desirable option, but when it comes to contracting out your work to a dependable, capable, and affordable cutting service center, you need only one center that can do it all. Bear Ridge is your One-Stop Cutting Service Center.
Bear Ridge Machine & Fabrication Inc. uses Flow water jet cutting machinery.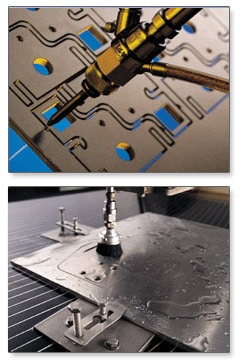 We have the latest ultrahigh pressure water jet system that will cut your parts, any parts, in an affordable and timely manner with amazing results. We are positioned to meet your cutting challenge(s).
With our technology and capable staff we can:
Cut a variety of metal and nonmetal materials up to 6-in. thick
Reduce machining time by as much as 70%
Provide a burr-free finished edge
Reduce waste material
Eliminate costly set-up time
Call Bear Ridge at 1-800-416-8083, or contact us online and let us become your source provider of the highest quality and affordable cut parts.
Various materials and metals serviced & cut.
Garnet #50
PCD
Tungsten
TZM
Alumina Ceramic (Alum Oxide)
Nitralloy
Molybdenum
Moly Steel
Tungsten Carbide
Waspalloy
Haynes 188
Hastelloy (C_276)
Nitronic 30
Inconel 718
Monel 400
Steel (AR 400)
Steel 4130
Inconel 600
D2 Tool Steel
Nickel 200
Tantalum
Steel, oil hardened
Stainless Steel(304)
Stainless Steel (17_7)
Stainless Steel (316L)
Stainless Steel (410)
Chromoly Steel
Stainless Steel (13_8)
Gray Iron
Invar
Stainless Steel (15_5)
Stainless Steel (17_4)
Mild Steel (A36)
Jade
Aluminum_Bronze
Niobium
ECL Test
Copper
Titanium
Copper_Nickel (7030)
Zirconium
Brass (full hard)
Naval Bronze
Silicon Bronze
Granite (Blue Pearl)
Granite (Santa Silcilia)
Zinc Alloy
Brass (half hard)
Granite (Black Absolute)
Granite (Black Galaxy)
Granite (Verde)
Granite (Verde Fountain)
Granite (Violita)
Brass (annealed)
Aluminum (5052)
Aluminum (7075)
Aluminum (2024)
Granite (Tropical Brown)
Aluminum (6061)
Aluminum (3003)
Granite (Peacock Green)
Concrete (no steel)
Granite (Yello San Marco)
Granite (Verde Marinache)
Magnesium
Granite (Calicata)
Granite (Vulga)
Granite (English Brown)
Granite (Nirgan Brown)
Granite (Emerald Pearl)
Granite (Mohogany)
Granite (Blue Saphire)
Granite (Giello Vernecian)
Granite (Dakota Mohogany)
Granite (Baltic Brown)
Silica (generic)
Granite (Laborador Gold)
Caesar Stone (Green)
Marble (Green)
Carbon Fiber
Graphite epoxy
Granite (Imperial Dark)
Brake Pad
Lead
Glass(plate)
Slate
Limestone
Caesar Stone (White)
Quartz (generic)
Corion
Marble(generic)
Nylon
Phenolic
Travertino
Micarta
Green Onyx
UHMW
Fiberglass (G10)
Epoxy(tool)
Kevlar
Fiberglass (generic)
Hydlar Z (kevlar reinforced)
Polypropylene
Polyethylene (High Density)
Delrin
Carbon / Graphite
Ceramic Tile (generic)
PVC
Clay Brick (red)
Polyethylene (Low Density)
Teflon
Wood (Birch)
Rubber (80 durometer)
Polyurethane Plastic
Rubber (50_60 durometer)
Rubber (50_60 durometer)