Bear Ridge Utilizes Messer's Metal Master® Evolution High Definition CNC Plasma Machine
The fabrication and/or machining process of steel components frequently starts with parts getting cut to size, beveled, and marked on the plasma table.
The plasma's capabilities extend to cutting any form of mild and abrasion resistant steel up to 4 inches thick by oxy-fuel cutting, or cutting high production aluminum and stainless components by using H20 and shield gas.
Bear Ridge also operates an assortment of shears designed for production jobs that are capable of cutting and punching angle, flat stock and channel.
Peddinghause 623/645

Punch tonnage: 80 tons
Shear tonnage: 250 tons
Angle sizes: 1 ½"x1 ½"x1/8″-6″x6″x1/2″
Flat: 2″x1/4″-6″x1/2″
Channel:C3x4.1-C6x10.5, MC3x7.1

Steelweld Shear

Flat stock in width as large as 12' and 3 ¼" in thickness

Piranha Shear w/ Die Punch and Notcher

Punch tonnage: 140 tons
Shear: cable of cutting round, flat, and square bar
Notcher: 4″x6″x3/8″

Various saws for cutting pipe, channel, tube, flat, angle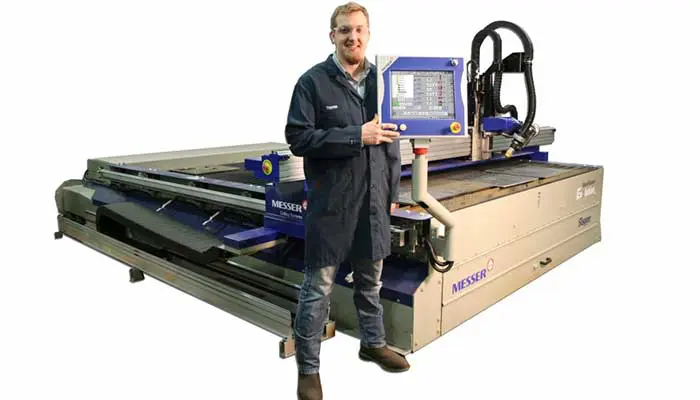 The Bevel-R – MetalMaster Evolution
The Bevel-R™ is a 5-Axis, compact plasma bevel unit that can accurately cut bevel profiles(non-vertical) on almost any contour. Low profile plasma bevel head with 360 degree programmable rotation with no cable or torch lead wind up rapidly processes your weld prep parts. SureStop Collision Sensor for quick, simple torch realignment for plasma cutting.