Bear Ridge offers metal plate rolling & metals bending and metals. Complete metal forming services in addition to our traditional custom fabrication services.
Situated just off of Highway 81 in Frackville, Pennsylvania, Bear Ridge is your one-stop metal shop in the Eastern Pennsylvania region.
ROUNDO machines are always more powerful and more heavily proportioned in terms of frame, roll size, bearings and drive torque than machines from other suppliers. The result is higher reliability, higher precision and longer service life.

The ROUNDO PS rolls are the most versatile yet cost-effective bending rolls available today, with plate thicknesses 1 – 100 mm and widths 500 – 8000 mm.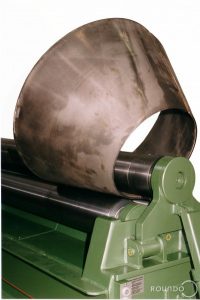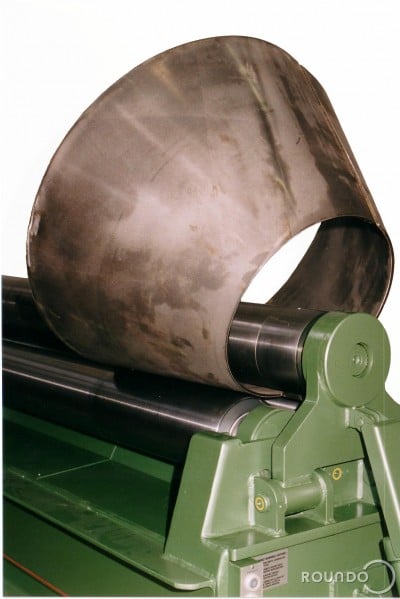 All machines have unique features needed for high precision and versility. The pinch/pyramid design provides excellent prebending capabilities, In many case the flat end is as short as one time the plate thickness. Prebending of both ends of the plate without the need to remove, turn and re-insert the plate. Yet, by positioning the rolls in the pyramid (symmetric) configuration, maximum bending capacity can be obtained, as well as maximum cone bending capabilities.
The ROUNDO PS rolls provide a large opening between the upper and the lower rolls, permitting heavy bars and even such unusual items as stair stringers for spiral staircases to be rolled. Versatility can be further expanded by the addition of attachments to roll flat bar on edge and on many models angle iron, T-bar, channel pipe and other sections. RLC controls and a wide range of options are available for all models.
The ROUNDO PS 460 Plate Bending Roller Machine offers:
Hydraulic drive with infinitely variable speed control on all rolls.
Hydraulic infinitely variable adjustment of the two lower rolls.
Ensured parallelism of rolls even with maximum load
Spherical roller bearings of highest quality for longer service life.
Hydraulically operated drop end.